Proctor U is a digital proctoring service that allows learners to take tests digitally while maintaining the integrity of the exam for schools. The proctoring service utilizes remote proctors who supervise the exam to ensure the students are taking the exam without exam malpractice.
Taking an online exam can be tricky, especially for students needing more test preparation. The exam can be more stressful if you are unprepared and tempted to cheat. If you need help in your online class, Takemyclasspro is a trusted brand that will help you get a guaranteed A or B grade in your online class. Learn more. 
How is Proctor U Exam Monitored?
Proctors supervising online exams control the integrity of the exam through the following ways;
Verification of the exam taker: Before students take their exam, the proctoring software authenticates the student taking the exam to ensure the student supervised is the right candidate. After the verification phase, a webcam is used to observe the exam taker in real-time to ensure the student is taking the exam at the right location and on their screen. 
What You Need to Know About Proctor U Exam
As a student taking online classes, you will likely take your exam through a proctoring service. Thus, knowing the general information governing the proctor U exams is crucial.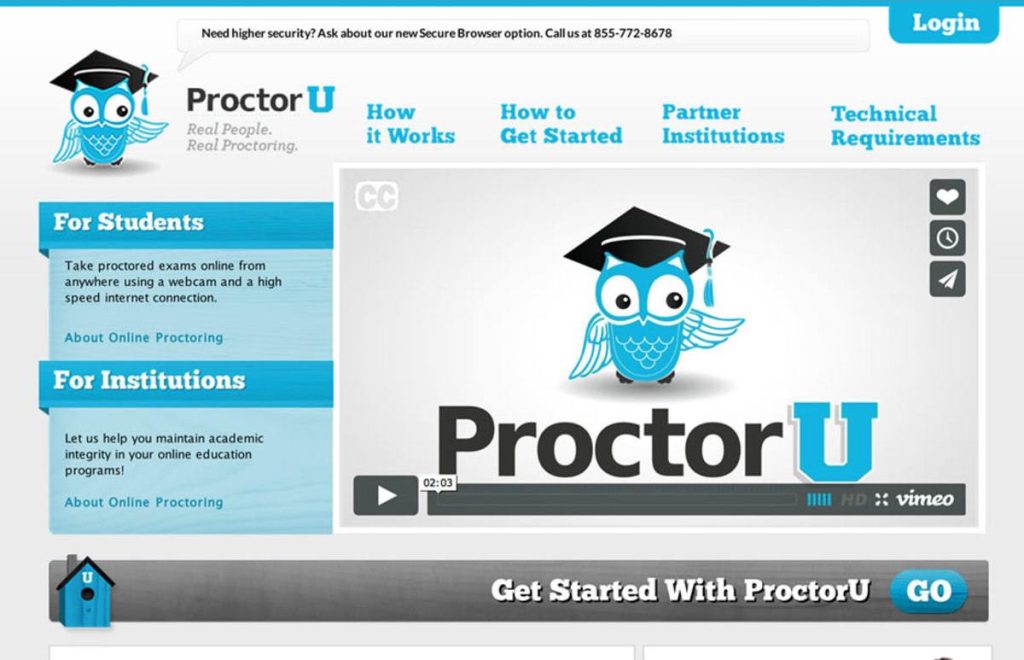 You need to familiarize yourself with the following details concerning proctor u.
If you want to schedule an online exam via proctor u, you have at least 72 hours to do so.
You should book your appointment at least three days in advance. Bookings made within seventy-two hours have a $5 penalty for late exam scheduling.
You can take the exam remotely conveniently on a specific location, day and time.
You must have two forms of ID and web tools, including; earphones, a laptop, or a desktop computer connected to reliable internet.
Exams supervised via proctor u are charged differently based on the exam time. For instance, a one-hour exam costs $14.75, 90 minutes $24.50, while a three-hour exam costs; $30.25.
The proctor u exam is timed. Thus you must be fully prepared to complete the exam within the allotted time.
If you cannot take the exam for various reasons, you can get a refund. However, refunds are issued for tests canceled within two days before the scheduled test date.
You need a reliable Windows XP computer with adequate space at least 500 MB or above. The computer should operate on Mac OS 10 or above if you are using Mac.
Other details include:
Your exam webcam should have a video resolution of 640×480 pixel
You should have a good working microphone. You can use speakers on your computer if you don't have one.
Have a webcam with an embedded microphone
You must have a high internet connection. The recommended speed is 768 kbps/128 kbps and above.
The web browser you are using should have Adobe Flash Player. The recommended one is Flash Player 10 or higher.
You need to give authority for proctors to access your desktop computer or laptop and the screen throughout your exam session.
Can you Cheat on Proctor U Exam?
The fact that proctor u exam is monitored remotely leaves many students wondering whether they can cheat without being caught. Takemyclasspro can take the proctor u exam on your behalf and deliver exemplary results. Our friendly team is readily available to help you get the score you deserve in your proctor u exam.
You only need to contact our exam takers through WhatsApp, and one of the highly qualified academic writers will respond. You will be guided on how to install the proctoring software you need for the exam. Once the program is installed, you must share the exam date and time to enable us to make appropriate checks before the exam day.
On exam day, you should log in to your account about 30 minutes before the scheduled exam time. Advance login will enable us to sync our remote software with your computer before the exam begins. You will be guided accordingly to ensure everything goes on according to plan.
The software we use buffers your digital presence. The purpose of our software is to prevent the proctors from seeing what we are doing for you. We will generate the correct answers for you. Once the answers are shared with you, pretend to be typing on your computer. This makes the proctor think you are the one doing the exam when we are doing so.
Conclusion
Online classes have become prevalent thanks to advances in computer technology. To maintain the integrity of the exam, proctors supervise the exam remotely. Proctor, u is an exam proctoring service enabling students to take their exams online. If you need help with your proctor U exam, you can get a guaranteed A or B grade with the help of Takemyclasspro