Have you received summon from your instructor, and you are wondering, "How can I prove I didn't cheat on an online test? Sometimes, such a scenario happens. However, there is always a way out.
Before we discuss how to defend yourself, let us explore Proctorio.
Why Does Proctorio Flag A Test?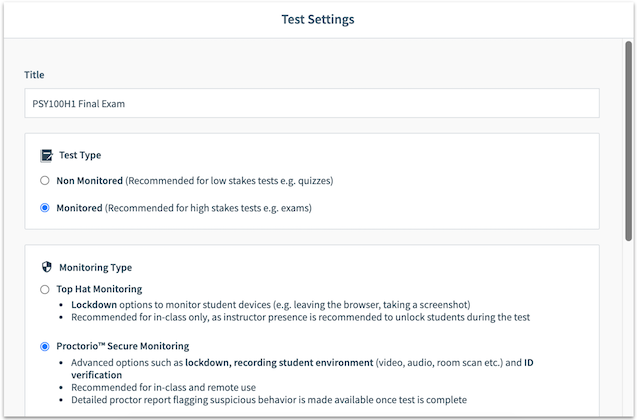 Notably, Proctorio seeks to promote equality and fairness in an exam. Its main objective is to ensure that every student answers the test questions from what they comprehended when learning. So, the system prohibits any use of aid when you are taking your test.
If the system detects that you have received aid during a proctored test, it flags your test attempt. Your instructor calibrates Proctorio to identify behaviors that they deem suspicious. Your behavior during the test should not match with any behavior that your instructor deems suspicious.
Why Does My Instructor Require Me To Use Proctorio?
The use of Proctorio during a test is a decision of your instructor. Therefore, some courses do not employ Proctorio during a test. If your instructor opts for the system, the following could be the driving force behind the decision:
⦁ It is impossible to create an alternative test – Sometimes, there can be limitations of time and resources in a school. For this reason, your instructor cannot manage to create an alternative test. Such a situation warrants the use of Proctorio in a test.
⦁ Testing for Foundational concept knowledge is critical – If you require a test to proceed to any learning field, there is a need for invigilation during an exam.
⦁ The need for equality and fairness during a test – If your instructor is strict on exam integrity, they can invigilate a test either in person or remotely.
Why Should Proctorio Access The Private Areas Of My Home?
When taking a proctored exam at home, you should take 360 degrees of your testing room. So, if you are taking your exam from your bedroom, the system will record how the room looks.
To avoid recording your private area, you should take a proctored test from a neutral place. You can opt for a kitchen, study room, or living room. Essentially, you should take your exam from a place that you feel comfortable showing around.
Alternatively, you can take your exam away from home. However, you cannot do it in a public area because Proctorio does not allow anybody else in the testing room.
What Do I Do If I Live With My Family Members?
When taking a proctored exam, you require a quiet room. If you live with your family members, they may make noise and violate one of the exam protocols. What do you do?
The first option is to arrange with your family members to speak in low tones when conversing. However, the strategy works for family members that can understand the exam requirement.
Some family members cannot keep quiet, especially children. In such a situation, you need to arrange with your instructor to take the exam when it is quiet in your home. You can opt for the wee hours of the night.
Last, you can opt to take your exam from a friend's place if you will find it quieter. Alternatively, you can rent a hotel room and take your exam from there.
The bottom line is that your test environment should be quiet. So, do not also listen to music or play games during the exam.
How Do I Know Whether Proctorio Will Work During The Exam?
If you are to use Proctorio during your exam, you must receive a practical lesson on how to use the system. Your instructor has to give you a mock exam that you will take to ensure that all systems are working properly. Additionally, the mock exam opens you up to the basics of Proctorio that you need to know.
Proctorio also boasts of offering 24/7 support. So, you will get any technical assistance you require after encountering any challenge while using the system.
How can I prove I didn't cheat on an online Test?
Notably, any proctored exam cheating claim can put you in trouble. It puts you at risk of exam failure, expulsion from school, or cancellation of an entire course. So, you should take exam cheating claims seriously.
The first thing that you need to do to prove you didn't cheat on an online test is to collect exhaustive information about the claim. The move will help you prepare your defense. Some of the information you require to gather is the specific time, behavior, and recordings of the claim. The information will help you track your behavior and defend yourself why you acted in such a manner.
The second thing that you need to do is not to publicize the cheating claim. Do not tell other students about the claim because it can take hard work to prove that you did not cheat. If possible, let the claim remain between you and your instructor.
Read the school's policy regarding academic misconduct. There is a probability that the claim does not violate the policy, and citing such a provision can remedy the situation.
Last, liaise with an academic defense attorney. The attorney can take you through the seriousness of the claim and defend you professionally. Getting help from an academic dishonesty attorney is a viable move that will help you explore all defense mechanisms that you cannot access when making self-defense.
How to avoid getting caught cheating in a proctored exam
If you feel inadequate to take your proctored exam, you should contact TakeMyClassPro. We are a team of academic professionals that have taken over 5000 exams on behalf of students.
For over three years, we have received thousands of positive reviews from satisfied students. We have a 5-star rating from most of the students that got a pass in their proctored exams.
If you contact us via Whatsapp, we shall discuss various details about your exam and what you need to do to have us on board. The process is simple, and it is as follows:
⦁ Tell us the nature of your exam.
⦁ Know our rates.
⦁ Make a payment and confirm the receipt.
⦁ Receive an ATI hacking software from us.
⦁ Install and test and test the software on your PC or laptop.
⦁ Inform us about the date of the exam.
⦁ Get connected to one of our academic professionals who is a subject matter expert in your field of learning.
⦁ On the exam date, get to your exam station 25 minutes before the starting time to help us configure our system to synchronize with your PC or laptop.
⦁ Log in to your system. We also get logged in.
⦁ Make the necessary identity verifications.
⦁ When the exam starts, do not move your mouse until when the exam turns to page two. We shall be doing the exam for you. Instead, pretend to be reading the questions until the page turns. Repeat the activity until the exam gets complete.
⦁ Log out.
If you want to avoid the process of proving that you did not cheat in your proctored exam, reach out to TakeMyClassPro here. We guarantee your success.