Several students ask," how do I know if Proctorio is recording me?" It is a question that seeks to affirm whether all systems are working alright. Otherwise, who would want to sit for a proctored exam only to re-sit due to system failure?
To answer the question, let's explore some facts about Proctorio.
Why Does Proctorio Need To Record Me?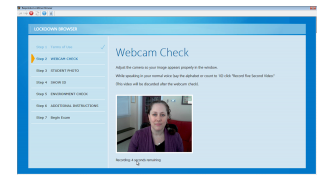 Notably, Proctorio is a data processor. First, the system has to invigilate your exam. So, it has to access your exam and integrate with your exam platform to fulfill its objective of invigilation.
Second, Proctorio has to verify your identity. How? The system compares your face with the face appearing on your student ID. Also, the system checks your credentials as they appear on your exam platform.
Last. Proctorio verifies whether your exam is original. So, it has to access your exam and verify whether it originates from your respective school.
Given the said roles that Proctorio plays, some of them require recording. For this reason, you have to turn on your webcam and microphone. Your webcam will record any visual events that happen in the testing room. For example, it will record everything that you will do on your test station.
On the other hand, the microphone will record any audio events that happen in your testing room. For example, it will record everything that you say during the test.
So, Proctorio has to record you as part of its data processing role.
How to Confirm That Proctorio Is Recording You
When you start your proctored exam, the Proctorio shield will turn green. The icon will maintain the color until you complete your test. Once you submit your exam, the icon will turn off.
Notably, Proctorio does not stay on forever on your PC or laptop. So, there is no need to worry that the system is watching you even when the exams are off. Such understanding will help you understand that the system follows a privacy policy that prohibits privacy intrusion.
Also, understand that Proctorio relays all information that it records to your school. It does not store or access any information that it collects from you. Instead, the system encrypts the data, and only an authorized instructor can access the information. Additionally, the privacy laws and regulations also bind your instructor. So, they will use only the data related to your exam. The instructors also cannot disseminate your private data to any third party.
Notably, Proctorio and your school operate under the privacy laws and regulations of your state or country. Any violation of your privacy rights is punishable under the law.
Consequences of Cheating in a Proctored Exam
Sometimes, cheating in a proctored exam is inevitable. No matter how much you study, you cannot shake off the feeling of inadequacy. Such a feeling makes you anxious, and there is a high probability that it can affect your exam outcomes.
Admissibly, even the best student has cheated in an exam at some point. Fortunately, no one found out. However, the action qualifies for a Proctorio flag.
So, when you think of cheating, explore the consequences of cheating first. The move does not mean that your instructor will know when you cheat, but it arms you with a plan B. Otherwise, opting out of your studies is non-negotiable.
Regarding the consequences, they include:
⦁ Missing out on a learning opportunity – When you cheat without understanding your course materials, you end up hurting yourself. Perennial cheating will lock you out of learning, and you may feel the effects when trying to put your skills into practice. So, before cheating in your exam, ensure that you have given your learning materials your all effort and attention.
⦁ Misappropriation of time – Sometimes, the preparation to cheat in a proctored exam can take a long time. It can cost you resources too. You can use the time and resources to study more and understand your learning materials in preparation for the test. However, sometimes you can be limited of time required to learn well.
⦁ Damage to the reputation of your school – If the news that you cheated in an exam becomes public, it can hurt the reputation of your school. Luckily, Proctorio is quite secretive, and hardly can the news become public. Often, you share the news with your instructor.
⦁ Exam failure – Cheating can lead to exam failure. Sometimes, you can bump on people that claim to be professionals, but they are not. So, do your due diligence before cheating to avoid exam failure or cancellation of your entire course.
⦁ Expulsion – The worst that can happen after cheating in your exam is expulsion from school. For this reason, you should be extremely careful when cheating in an exam. As aforementioned, you need to perform due diligence to ensure that you cheat like a pro.
How to Avoid Exam Cheating Consequences
Given the consequences of cheating, you need to do it lie a pro. TakeMyClassPro gives you the following advice:
⦁ Create enough time to prepare – You should never rush to cheat in your proctored exam. We recommend that you should contact us a few days before the exam. The window will help us integrate our systems with you and ensure your smooth flow of events during the exam.
⦁ Use software – You already know that no one can be in your exam room. Also, you cannot make a call, receive one, or have a Bluetooth speaker in your exam room. All these protocols make your cheating hard. However, you can use our ATI cheating software to cheat in your proctored exams. We provide the software to you well before the exams. You should install the software. During the exams, the software will log us into your computer, and we will do the exam for you. Therefore, we will help you cheat like a pro!
⦁ Hire Professionals – A quick visit to our website will reveal our prowess in taking proctored exams on behalf of students. We have several positive reviews from students that scored over 75% in their exams. Additionally, we have been in operation for over 3 years, and we have taken over 5000 exams. What does that tell you? We are a team of academic professionals that are tech-savvy.
⦁ Avoid free or cheap cheating serves – As much as you want to spend so little when cheating in your exam, the resources used to do so are immense. Hence, it is hard to find a credible professional that will do your exam for free or at an insanely low price. We have taken time and resources to design a state-of-art hacking software that Proctorio cannot detect. So, agree to pay the ultimate price for high-quality outcomes.
⦁ Follow the rules – You should adhere to TakeMyClassPro rules before and during the exam. For example, make the payment on time, inform us of the date of the exam well before the exam, and observe the interval of moving your mouse.
From the discussion, you can understand that Proctorio records you throughout the exam time. So, be careful not to explicitly break its rules.
However, you can WhatsApp us from here to help you cheat like a pro.