Are you seeking an answer to this question, "how do you know if Proctorio flagged?" Then, TakeMyClassPro will answer you and offer more guidelines on Proctored exams.
Waiting for your proctored exam results stands as one of the longest waits ever. Now that you have taken your exams, you are unsure about your grades and you may get anxious. However, it takes as little as 7 days for you to access your proctored exam results.
Before we tell you how you can know whether the system flagged your exam, let us take you through a few things that you should know about proctored exams.
How Instructors Access Your Exam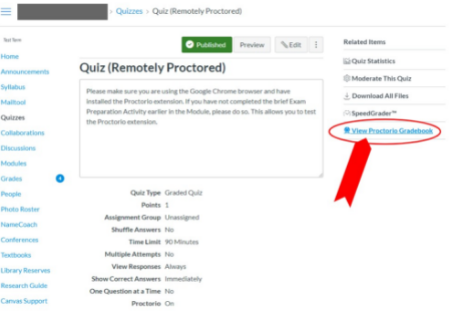 Your school has the sole mandate of enabling Proctorio. So when an instructor requires any activation or calibration of Proctorio, they have to liaise with the helpdesk of your school.
After the submission of the exam, an instructor heads to the Proctorio Gradebook report. Notably, the grade book is not visible from your end. So, there is restricted access that only your instructor has the approval to access.
From the grade book, an instructor can see the list of all students that took an exam. After clicking your name, the instructor will view a full video of the content that Proctorio recorded. Also, the instructor will see a list of all flagged suspicious behavior in red or yellow.
If the instructor had calibrated Proctorio to a lenient level, then they will see more flagged behavior. The flagged results do not necessarily mean that you cheated. So, the instructor has to review the flagged behaviors and select the ones that amount to cheating.
Last, Proctorio will give an analysis of how your behavior matches with the behaviors of other students that were taking the exam. So, there is a probability that behavior that applies to all students does not amount to cheating. However, a unique behavior that only applies to you may amount to cheating.
Do You Need to Sign Up for Proctorio?
Are you wondering whether you need to sign up or register for Proctorio? Well, you do not have to carry out any registration.
Proctorio integrates with your assessment platform via the Test of Essential Academic Skills (ATI) platform. So, it has a single sign-in capability that your school can access. So, when you log in to your learning management system or blackboard, then you are already logged in to Proctorio.
However, Proctorio gets activated from your end when you click to begin your test. So, the Proctorio will not invigilate any other activities that carry on your blackboard. So, you can access other activated learning materials before taking your exam.
Notably, you cannot take forever in your blackboard if your instructor had set the exam to begin at a specific time. However, you can hover over your blackboard for some time if you are to take the exam at any time of the day.
How Do You Manage Your Bathroom Breaks during a Proctored Test?
Now that Proctorio does not allow you to move from your test station, you may be wondering how to manage your bathroom breaks.
Notably, Proctorio encourages instructors to allow as many bathroom breaks as necessary. The system support agents can't approve any bathroom break. So, never try to contact Proctorio support to give you a break. Rather, liaise with your instructor to know the number of times that you can attend to your bathroom needs. Alternatively, your instructor can advise on how to behave when in need to go to a bathroom, including raising a hand or speaking into your microphone.
Is Proctorio Invading My Privacy?
If you opted to take your proctored exam at home or any other private place, you might be wondering whether Proctorio is invading your privacy. Admissibly, you can feel uncomfortable when other people see where you live or have access to any other information about your private space.
Given that you have to provide a 3600 scan of your testing room, Proctorio will capture the details. However, the system strictly adheres to FERPA guidelines that provide several provisions that ensure that your privacy remains confidential.
Does Proctorio invade your privacy?
To answer this question, you should understand the nature of Proctorio. First, the system is a data processor that your institution uses. The aspect depicts that your institution is responsible for any information that Proctorio collects from you. Secondly, Proctorio acts as a data controller. Notably, the system encrypts all personal information that it collects from you. Additionally, it uses a Zero-Knowledge Encryption capability that does not allow the system to see the data before encrypting it. So, Proctorio does not know anything about you. Rather, it reserves all information that it collects from you for your institution.
How Do You Know If Proctorio Flagged?
Now that you know that only your instructor can access your exam information, you can only know whether Proctorio flagged your test after getting the results or test information from your instructor.
Notably, your school has selected the instructors that will access Proctorio to see your test results. It is not possible to contact anybody else from your school to know whether Proctorio flagged your test.
How To Avoid flags on Your Proctored Exams
Passing your test means that you had a few or no flags on your proctored test. To achieve this objective, you can partner with TakeMyClassPro. We are a team of highly qualified subject matter professionals that have taken over 5000 proctored exams on behalf of students. Also, we have several reviews from happy students that scored over 75% in their exams.
By contacting us from here, you will get a chance to stop worrying whether Proctorio will flag your test. We shall take the exam on your behalf.
How TakeMyClassPro Works
After reaching to us via WhatsApp, we shall provide you with software that hacks into the ATI software that processes your exam. First, you have to make a payment and confirm whether we have received it. Next, you shall receive our software and install it on your PC or laptop.
The software helps us to get logged in to your system once you log in to begin your exam. The software also helps us to view your exam and take it on your behalf. So, we shall access all questions and answers and we shall use our academic expertise to answer the questions. Notably, we are not only tech-savvy but also academic experts. Regardless of the exam that you want to take, be sure that we have an expert in our team qualified in your area of study.
Once you log in to your system during the exam, you only need to carry out the verification exercise. When the test begins, you just pretend that you are studying the exam while our experts do the exam for you. Once we turn to page 2 of your exam, it is time to move your cursor. You should do this until we complete the exam.
Once you log out, we get logged out too. So, we shall not have any more access to your system.
It is time to partner with academic professionals that will secure a pass in your proctored exams.