Are you armed with the tips of how to pass TEAS test 2021? Even though you are now all set up to venture into your selected health science field, one thing stands in the way. You have to pass your Test of Essential Academic Skills (TEAS). Failure to do so will crumble your dream.
So, what do you need to know?
Is TEAS Difficult?
Do you have a phobia of tests? If yes, you will find TEAS difficult. Your unresolved phobia for tests will make you have chills, especially about the thought that you have to sit for proctored TEAS before undertaking your nursing course.
Admissibly, the number of TEAS subjects can be overwhelming because you are tested on the following:
⦁ Reading – It is a 64-minutes long test that assesses your reading and comprehension skills. It contains charts, passages, directions, labels, and measurements that you need to study and understand.
⦁ Science – It is a 63-minutes long test of life, earth, and physical sciences. It assesses your reasoning capacity and your ability to understand the human body.
⦁ English – This 28-minutes long test seeks to assess your grammar, spelling, punctuation, context, and sentence structure skills.
⦁ Mathematics – It is a 64-minutes long test of math problems. It also assesses your ability to measure and interpret data.
From the details, you have around 4.5 hours to do the test not to mention that you have to score around 75% on your TEAS overall score.
Preparation for TEAS
You have to confirm some factors before taking your TEAS:
⦁ Some schools allow up to 3 attempts to pass your TEAS. Others will give you bottomless chances. However, you should opt for taking the exam only once given that you have other things to do. Additionally, the attempts are not too comfortable for you to keep on going for more.
⦁ You should also confirm the approved passing score of your school. Some schools approve a 60% score while others can go as high as 80%. Nevertheless, the overall passing score is quite high and you have to input high-level efforts and aim to get the highest score instead of the minimum score. So, it is work.
⦁ Do you have access to previous nursing entrance test statistics? If you have access, you can identify the scores that you have to get as a pass mark.
⦁ Do you have to complete the 4 sections? Some schools will exempt you from the reading section. If you are lucky to have such an exemption, you will find the test a bit easy.
TEAS Test Score Ranking
You might be wondering about the meaning of different TEAS scores. Well, the following is the various ranking levels of the exam:
⦁ 92%-100% – Exemplary: If you get this score, you show a high-level preparedness to support health sciences. Additionally, you do not need additional preparation to achieve the TEAS objectives.
⦁ 78%-90% – Advanced: Similar to the exemplary level, the advanced level shows that you have a high-level preparedness to take health sciences.
⦁ 58.7%-77.3% – Proficient: This is a moderate score that warrants additional preparedness to meet the objectives of TEAS.
⦁ 41.3%-58% – Basic: This is a low level of academic preparedness. If you get this score, you are likely to require additional preparation to meet the objectives of TEAS.
⦁ 0%-40.7% – Developmental: This is a low level of academic preparedness required for you to undertake health sciences. If you get this score, you will need additional preparedness to succeed in health sciences.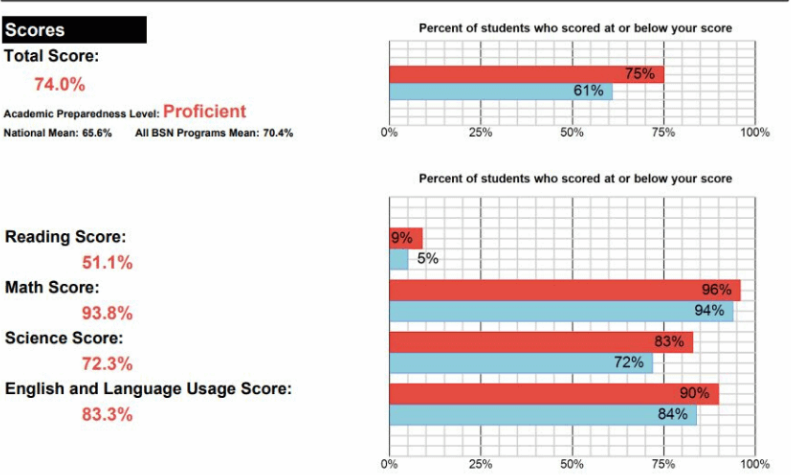 How to Receive the TEAS Scores Report
Taking proctored TEAS exams is more convenient than taking the paper one. If you take the proctored exam, you will receive your scores immediately. However, taking paper-based TEAS will take you a long time to receive the scores report.
Notably, your school of choice will also receive your scores report in real-time for proctored TEAS. So, you do not have to send the report to your school. Additionally, you do not have to convince your school in any way regarding the quality of your scores. You only have one option after failing the test: retaking the exam.
Requirements of Retaking the TEAS Exam
If you do not manage to score well after taking your TEAS, there is a price to pay when retaking the exam. You have to note the following consequences of getting below the minimum scores in your TEAS attempts:
⦁ You will not get approval to join a health sciences school. Notably, passing your TEAS is a prerequisite of admission to a nursing or other health sciences school.
⦁ You will be allowed to retake the test. However, the option depends on whether you have lapsed the number of allowable attempts. Some schools will give you 1 attempt, others will give you 3 attempts, and others will give you unlimited attempts.
⦁ You will pay the testing fee for every attempt that you make. So, a high number of attempts translates to a high cost of taking your TEAS exam. For this reason, you should aim to take the exam in the fewest attempts possible.
⦁ You may have to wait for 30 days before retaking the exam. The waiting window translates to time lost. So, you need to have adequate preparedness to sit for your TEAS within 1 or a few attempts. Furthermore, life goes on and you need to make time for other life issues instead of spending quality time doing exams.
Will I pass my TEAS Exam?
If you are asking how to pass Teas Test 2021, you are not alone. You are together with everyone that will take their TEAS in 2021. Regardless of the level of preparedness, everyone is worried about passing the TEAS test.
How do you tell whether you are ready for your TEAS? Well, it is not possible to tell given that only the examiner will know the details of the exam beforehand. So, you might think that you are well prepared only to find difficult questions that will make your head go blank.
We are a team of subject matter professionals that will take the TEAS exam for you. We shall help you score over 75% in your TEAS and our 3-year experience comes in handy to help you succeed.
How does it work?
All you need to do is to contact us. We will advise you on our rates. After making the payments, we will send you software that you will download on your PC or Laptop. You will then tell us the date of the exam (few days before the exam).
During the exam day, make sure you are on your test station 25 minutes before the test begins. We shall be in contact as we configure the systems. Afterward, log in and make the necessary verifications. We shall be logged in as well.
When the test starts, you just need to be there. You should behave as if you are studying for the test. When you see that the test has turned to page 2, it is time to move your mouse and note the time interval of flipping the pages.
The process will go on until when the test is complete. Afterward, log out and wait for your well-passed results.
It is time to reach out to TakeMyClassPro to pass your TEAS test 2021.