Can Proctorio tell whether you are cheating during a test? This could be your thought. Whenever you imagine the time and resources that you have spent studying, failing the exam is out of the question. Given the situation, you are ready to do all that is possible to pass your test, including cheating. But, the thought of Proctorio hovering above you gives you goosebumps.
To cheat or not to cheat? You need to know whether Proctorio can tell whether you are cheating. Let us first discuss some few basics of Proctorio.
The Overall Objective of Proctorio
From its website, Proctorio seeks to support quality education. One of its strategies entails the provision of a high-integrity learning environment to students. What do you perceive of integrity? It is a quality that features honest and moral uprightness.
So, Proctorio creates a learning environment devoid of elements that can compromise honest and moral uprightness. A question arises whether you will manage to cheat under the hawk-eyed Proctorio.
Proctorio Cheating Report
Notably, Proctorio has an AI-based algorithm that flags any suspicious behavior during an online test. So, the system can detect cheating. It deters anyone with a motive to cheat during an exam to actually cheat.
The report that Proctorio provides is as follows: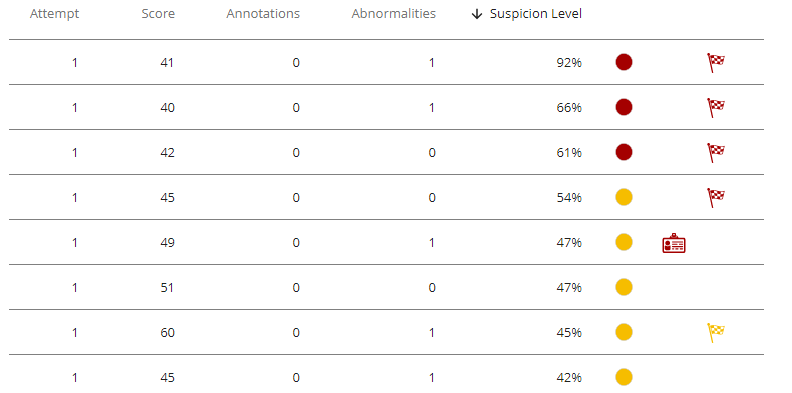 How Proctorio Works During a Test
Proctorio carries a number of activities when you are sitting for a test. The activities include:
⦁ Browser lockdown – During a test, it is impossible for you to switch to another browser using your internet-enabled gadget. The system ensures that the browser that you used to log in is the one that you will use throughout the test session.
⦁ New internet lockdown – It is also impossible for you to open a new internet tab on your browser during a test. Thus, you will only view the tab that shows your test details.
⦁ Disabling printing – If you were thinking about printing the test to view the questions using another computer, you thought it all wrong. It is impossible to print the test when the session is ongoing.
⦁ Clipboard disabling – It is also impossible to copy the questions and search for them over the internet. Proctorio ensures that the screen is read-only and any attempt to copy the questions will be unsuccessful.
⦁ Right-click disabling – And now you thought…ah…I will just right-click the test and transfer the details elsewhere. You will be shocked to find out that Proctorio disables the right-click capabilities of your mouse during a test.
⦁ Forcing full-screen – If you had any saved material on your computer, then count them useless because you will sit for the test on a full-screen mode. It will be impossible for you to navigate your computer and open any files during the test.
⦁ Clearing the Cache – After you are done with the test, your computer will not remember it anymore. Proctorio ensures that your memory cache clears any information related to the test.
So far, I believe you are now dumbfounded about what Proctorio can do to curb cheating. Well, you are in for more surprises because the system will collect the following information when you log in to sit for the test:
⦁ Exam card screenshots
⦁ Computer IP address
⦁ Your photo and voice
⦁ Testing location video
⦁ Any sound that the microphone captures
⦁ Any video that the webcam captures
⦁ The location of your mouse
⦁ The size of your browser
⦁ Your open windows and browser tabs
⦁ Facial movements
⦁ Your fullscreen
⦁ Approved website visits
⦁ Any running applications
⦁ The number of connected screens
You should understand that the decision whether you cheated or not relies solely on your instructor. What Proctorio does is send the recordings to your instructor for an assessment. So, the system cannot pinpoint whether academic dishonesty has actually taken place.
Did you know that Proctorio will never tell you that it has flagged some of your behaviors? You will remain jittery after completing your test because you will never know whether you have acted according to the settings of the instructor or you have failed your tests.
Will Cheating be Really Possible?
The answer is yes.
But can Proctorio tell whether you are cheating? The answer is still yes.
That said, you really know how to cheat like a pro. Better still, you should contact TakeMyClassPro to help you out. We are a dedicated team of professionals that will hold your hand during your proctored test.
Sincerely, it is not possible to bypass the inbuilt protocols of Proctorio. Having read the system's capability as discussed above, the protocols leave no loophole that you can explore and cheat during a test.
For this reason, you need to outsource ATI proctoring platform hacking services. At TakeMyClassPro, we can hack Proctorio and help you acquire high scores for your tests.
Getting Down with TakeMyClassPro
You need to follow the following easy steps to cheat like a pro in your test:
⦁ Contact us to know our rates via Whatsapp. If you are yet to be on Whatsapp, please download it ⦁ here.
⦁ Pay us and receive a confirmation that we have received your payment.
⦁ Receive our software.
⦁ Install the examination software on your device – The step ensures that you will manage to log in and access the test that you are about to take. We shall be happy to test the software with you to ensure that it is operational.
⦁ Inform TakeMyClassPro well in advance (a few days) about the date and time of the test. It takes us 10 minutes to ensure that everything is set for the test.
⦁ Be online 25 minutes before the starting time of the test. The window will help us link our hacking software with your device.
⦁ After the test starts, verify your identity, such as ID, photo, face, among others. The move triggers the proctor to feed the test program with a password and begin the test.
⦁ After the test begins, our professionals will have access to the test questions and they will answer them for you in real-time.
⦁ Continue sitting in front of the screen and act as if you are working on the test.
⦁ Do not move the cursor until our professionals turn to the next page. All you need to do is to pretend you are busy reading the questions.
⦁ Please get note of the interval that our professionals are using when turning over to the next page. This step will help you know when to move the cursor.
If you follow the said simple steps, then you are on your way to scoring high on your test. Please note that our professionals are subject matter experts that will sit for your test effortlessly. So, you are in for more than you have bargained for.
So, it is time to contact us to score an A in your forthcoming proctored exams.